About KAR
Kids Artistic Revue, otherwise known as KAR, is excited to enter its 30th season! KAR was established by Noah R. Lands in the Los Angeles area to provide an outstanding outlet for dancers and choreographers to showcase their talents. Over the years, KAR has grown from 1 day regional competitions to hosting 3 day regional events in two venues. KAR has also expanded their grand national finals to four beautiful locations: Las Vegas, Myrtle Beach, Panama City and Toledo. KAR is proud to be one of the oldest and most successful competitions in the industry!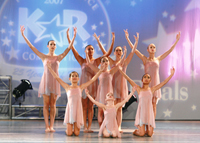 In a rapidly growing industry where new dance competitions appear yearly, Kids Artistic Revue continues to stand out as a well organized, professional and highly reputable organization. KAR is continually updating and searching for way to provide the latest in technology to make competition easier for the studio owners, director and teachers while also working to keep the show entertaining and fast paced for the dancers and spectators. Providing a quality and professional show with a fun and family atmosphere is important. With growth and changes, one thing will always remain a constant: the KAR professionals who strive for excellence at the same time truly caring for the dancers, teachers and spectators. This is what sets the KAR staff apart from the rest!
Kids Artistic Revue's goal is to give dancers of all ages and abilities the opportunity to showcase their talent in a positive environment, while still performing under the evaluation of qualified judges. The secret behind Kids Artistic Revue's success is its ability to provide a memorable and rewarding experience with a friendly staff. This keeps everyone coming back for more!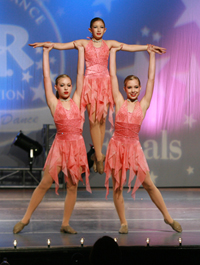 Recreational, Primary, Secondary, Intermediate and Elite levels are a trade mark which sets Kids Artistic Revue apart from other national competitions. KAR's unique leveling system is the reason why we are the only National Dance Competition that attracts such a wide range of dancers. Unlike other competitions that base their divisions strictly on age and/or hours of dance per week, KAR's belief is that age and class hours should not be the only criteria used in placing dancers in a competition. KAR encourages all dancers regardless of their level ability and/or experience to perform at our events. Dance teachers truly appreciate levels because it enables all of their students to participate on a fair and balanced scale. They can enter their novice dancers as well as their most advanced dancers without having them compete against each other. Kids Artistic Revue promotes a fair chance at winning and gives dance teachers and choreographers the option of placing their dancers in the level they feel is most appropriate based on a collection of criteria: age, ability, training and competition experience.
KAR provides many opportunities for dancers of all ages outside the competition venue. In 2000, Kids Artistic Revue's partnered with Artistic Adventures to give hundreds of children throughout the United States the opportunity to experience New York City. The KAR All-Star dancers recently changed to All-Star Dancers with the expansion of this exciting program to include Applause Talent, Masquerade and Rainbow competitions. Dancers selected at these four amazing competitions as All Star Dancers received an invitation to participate in the week long dance convention held in the heart of New York City. Dancers not only receive classes but adventure filled tours and wonderful Broadway shows. In 2010, KAR expanded its brand to include the KAR Convention! This exciting one day convention is held in cities across the U.S. during the fall and winter months. Classes are taught by leaders in the dance studio industry and are for dancers of all ages and abilities.
Kids Artistic Revue is dedicated to making every competition a positive and rewarding experience for all dancers, teachers and parents alike. If you have not recently joined us or if you're a dance studio looking for a new and exciting competition, call us at (714) 826-8440 or fax us at (714) 826-2117 to receive information on our 2012 dance competition season.