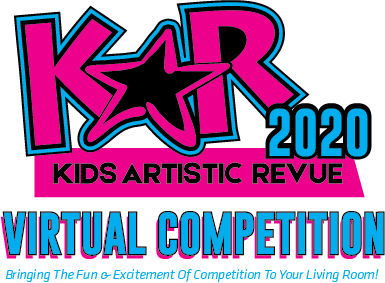 America's Favorite Dance Competition is excited to bring our world class dance event to your living room! KAR VIRTUAL DANCE COMPETITION and your favorite judges from across the world are coming together for a groundbreaking, FUN virtual dance event!

** The first 4 leveled Virtual Competitions listed above will receive Judges Scores and Commentary only. All Virtual Events will include a High Point Award Presentation. All Virtual Events will NOT receive Cash Prizes. All paid Virtual Competitions will receive the additional awards listed below **
EXCITING NEW VIRTUAL EVENTS HAVE BEEN ADDED!
Please log into your STUDIO CENTER for Virtual Competition Entry Fees and Registration Details and Deadlines. All Registration is First Come, First Served. Space is limited, Studios are able to take a "Virtual Road Trip" to any of the Virtual Cities and Competitions. All registered studios with Studio Center's are eligible for registration. Registration is open to ALL interested studios! If you do not have a KAR Studio Account please sign up at Studio Center Sign-Up. Registration is only open to STUDIOS, we do not accept Independent Registration. Exclusive to the VIRTUAL Dance Competition experience we're proud to also offer the Amazing Title Competition and Online Photogenic Contest!
HOW TO REGISTER:
Sign into your STUDIO CENTER.
Click On ENTRY FEES to see the 2020 Virtual Competition and Registration Fees.
Edit Studio Information - Be sure your mailing address is correct as all awards will be shipped directly to the studio address listed within your Studio Center.
Add Performances to the Virtual Event that you wish to register and participate in. Studios are able to take a "Virtual Road Trip" to any of the Virtual Cities and Competitions.
Once all performances are registered, click on Music Manager & Virtual Competition Video Uploads to upload your video files. Video File Requirements - MP4 file with a maximum file size of 500MB.
A tentative schedule will be sent the WEDNESDAY the week prior to the event by 4pm PST.
Deadlines for Video Uploads and ANY performance changes are due FRIDAY at 7pm PST 1 week before the Virtual Event.
A Final Schedule will be emailed to the STUDIO on SATURDAY the week prior to the event by 12 noon PST.
TENTATIVE VIRTUAL EVENT SCHEDULE:
The Digital Program will be available for ALL to download 1 day prior to the start of the Virtual Competition. Please sign up for your digital program at Digital Souvenir Program.
To View the LIVE VIRTUAL COMPETITION - go to Virtual Competition Theater.
SAMPLE VIRTUAL EVENT SCHEDULE:
Friday 8am (PST) - Live stream starts
Saturday 8am (PST) - Live stream continues
Sunday 8am (PST) - Live stream continues
Monday 2pm (PST) - Awards streamed live

** Subject to change based upon registration and event location **
POST EVENT DETAILS:
The awards presentations for each virtual event will be available for replay at Virtual Competition Theater.
Award Results can be found at Results Page.
COMPETITION GUIDELINES:
All Virtual Competitions will adhere to the 2020 KAR Rules and Regulations.
Submissions can be recordings from ANY conventions/competitions, KAR or not. You may also use videos from recitals, showcases or any other performances or rehearsals. Recreational and professional settings accepted. Due to the Virtual environment, all Overall Appearance scores will be given an automatic score of 5 to make it fair for all participating studios. For Production performances, a perfect costume score (10) will also be given.
All performances will be evaluated using the KAR Judging and Scoring criteria. Please review the KAR Rules and Regulations for more details Rules Page
We are accepting Solos, Duet/Trios, Small Groups, Large Groups, Lines, Superlines and Productions for the paid Virtual Dance Competitions.
Please make sure your performances are family friendly!
The Title competition is open to soloists who pre-register for their respective Virtual competition. A separate entry fee will apply for each Title performance.
Online Photogenic Contest registration can be entered through the Studio Center or Parent Centers. The price for photogenic entry is $25.
JUDGING, SCORING AND AWARDS:
Each performance will be adjudicated by a professional panel of three predetermined judges.
General Awards placement will be posted on the results page. This will be a new tab added to our website results page. Only High Point Awards, Title, Photogenic and additional scholarships will be presented during the LIVE awards presentation.
Award Results can be found at Results Page.
All registered performances will receive Judges' commentary and score sheets.
Overall High Point awards will be presented in the respective Levels and Age Divisions.
New Virtual award buttons will be presented and shipped for General Placement and High Point Awards.
Title WINNERS in each Level and Age will be awarded crowns and caps. These awards will be also mailed to the studio.
Junior and Senior Photogenic WINNERS will receive a custom plaque. These awards will also be mailed to the studio.
The Top 3 SOLO Overall High Point Winners will be presented scholarships to Refresh, LA Dance Magic & 2 Days in the OC.
REMEMBER... This is for the FUN of performing and supporting each other during this difficult time. We want to unite, inspire, and encourage our incredible Dance Community to keep dancing. We urge friends and family to watch and support! Use #DanceKARvirtual for a chance to be featured on our page during the competition!
We can't wait to see all of the incredibly talented dancers!! Thanks for participating and joining us for our first VIRTUAL dance competitions!! For any questions please email us at virtual@dancekar.com.